For those of you that weren't able to come to the Zapow art opening here is the painting that I submitted for the show.  Zapow has scheduled a themed art show every two months.  From April to June "Space and Time Trifecta; Dr. Who, Star Trek, and Star Wars will be up.  The show opening was April 5.
I like having assignments to bring me a challenge and to expand my art.  Being at the Zapow gallery there is a lot of geek art that I am not really a part of.  I also did not have much interest in creating a full blown painting.  I considered doing something with my style of the ewok village.  There could have been a lot of fun stuff happening but it would have been a lot of browns and greens and I did not have the interest to dedicate the time I had for the steampunk show.    I didn't want to do "slave Leia", she's the go-to to sell Star Wars stuff and when I thought about characters that would be fun to draw I liked drawing the ladies.  Initially, I wanted to incorporate the Dr. Who weeping angels from the "don't blink" episode.  Those angels gave me the idea to do a spin-off of Charlie's Angels.    Since the Dr. Who angels are bad I thought I would do bad ladies of Star Trek, Star Wars, and Dr. Who but once I got into my "research" (pinterest)  I realized that they aren't that much fun to draw.  They're all in black.  I may make that illustration one day, we'll see.  I would have the weeping angel behind the ladies and I'd have the Dr. Who bad-lady with the eye patch, the borg queen form Star Trek, and for Star Wars I was sort of stuck so I went with Jabba's first slave girl.  My hubby suggested making a female Sith.  That would work too.  Anyone know an evil lady Star Wars character?  Classic Star Wars.
I have a confession:  I have never watched a Dr. Who episode.  I had no idea who the females might be and it took a lot of advice from friends to help me out.  I am very grateful and I am sending a print to the 3 that helped me the most.  I am going to try to send prints to those that help me the most on my work so if you're on FB check out my page and start participating.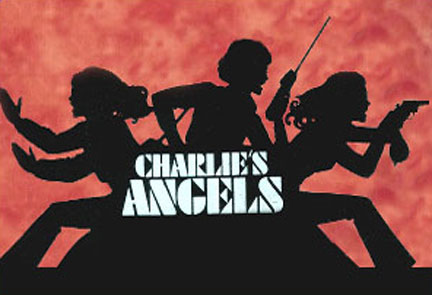 Have you taken a look at the old Charlie's Angels logo?  What I love is that the middle girl is holding a walkie talkie, a perfect place for Uhura to stand in.
I love Zapow.  I brought the drawing of this idea to a critique night and got some great input.  Unfortunately, I had already started painting the background.  Someone had a great suggestion to put a tardis behind the ladies and have the title be "the angels have the phone box", for all those Dr. Who fans.  One day I can do that in Photoshop.  How about that?  I'll have to see that episode some time.  I'll have to see Any episode sometime.
So now it is time to think about the next theme: "Postcards from Asheville".  If you have any ideas post on my FB page, share some images, comment below.  I'll be giving away prints to the most influential ideas.  I look forward to brainstorming with you.  I'd like to do something pretty classic with a touch of weird.  That's all I know.
This print is for sale at my Etsy store.  Prints are only $12.  
Comments
comments